Searching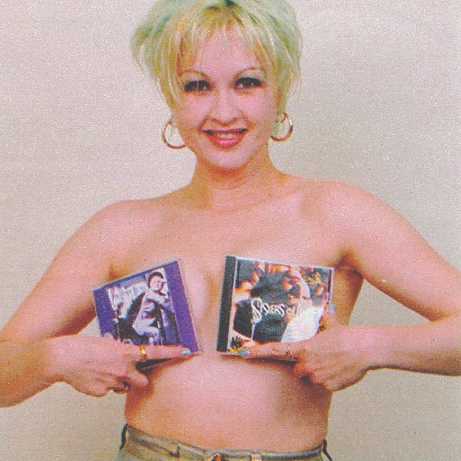 Apparently Cyndi holds the Sisters Of Avalon album as close to her heart as I do.
OK, here's the deal: I have all her albums and all the videos that are available to the general public and while this is quite a hearty amount of material, it just ain't enough. So, I'm putting the word out there that I'm on the hunt for any video footage: live concerts, videos, television appearances, whatever.

---
Here are the videos that I have:

12 Deadly Cyns
In Paris
Goonies R Good Enough video
Hole In My Heart video
My First Night Without You video
A Night To Remember video
You Don't Know video
Ballad Of Cleo And Joe video
Blue Angel - Late video
Blue Angel - I Had A Love video
Blue Angel - I'm Gonna Be Strong video
Vibes
Off & Running
The Opportunists
Life With Mikey
The Wall
Bravo Profile
Lifetime's Intimate Portrait
VH1 Behind The Music
The Crazy World Of Cyndi Lauper (I'd like to strangle the guy who edited this by the way)
Girls With Guitars
Craig Kilbourn Show
Letterman Show
Tonight Show with Jay Leno
Oprah Winfrey Show
Uncle Floyd Show
Conan O'Brian Show
Straightforward interview with Roger Ailes
VH1 All Access
VH1's 100 Greatest Women Of Rock & Roll
Cyndi interviewing Little Richard
Simpsons
Breakfast Time
Friday Night
Naked Cafe
American Bandstand
Rock Of The '80s
Solid Gold (2 appearances)
Entertainment Tonight (4 appearances)
American Music Awards (1985 & 1994)
Grammy Awards (1984 & 1991)
Johnny Carson Show (3 appearances)
1987 MTV Video Music Awards
Montreaux Golden Rose Pop Festival
Guest VJ on MTV
David Letterman Show (4 appearances)
MTV Viewers Choice Awards
Arsenio Hall Show
Biggers & Summers
Commercial for 12DC
The View
Rosie O'Donnell Show (2 appearances)
Live With Regis & Kathie Lee
Duets with Patti LaBelle (3 songs)
I'm Gonna Be Strong performed live in France
MTV Wild Island Cruise
Good Sex With Dr. Ruth
Saturday Night Live
The Dance Show
Private Reel interview
Bloopers & Practical Jokes
MTV White Paper
Cyndi interviewing Little Richard
Four On The Floor
Japanese Dominos Pizza commercials
O-Zone
America's Top 10 (attempts yodeling)
Trev & Simon's Video Garden
Jack Dee Show
The Crunch
An acoustic outdoor show circa 1995
Elmocize
Mother Goose Rock & Rhyme
Broadway's Best
Mad About You (Stealing Burt's Car, A Pair Of Hearts, Money Changes Everything, and the final episode)
Too Hot For TV
Divas Las Vegas
Good Morning America
Live in Toronto 1993 (bootleg)
1990 John Lennon Tribute
Sisters Of Avalon video
Heading West video
VH1 Hard Rock Live
RuPaul Show
New Now Next Awards
The View (2008)
Good Morning America (2008)
Jimmy Kimmel
Kathy Griffin Show
As The World Turns

---

Here are some things that I am aware of that I would like badly:

Her appearance on Rotten TV
Radio City Music Hall, October 2001

---

My holy grail:

A video of her free concert at Boston Commons, October 1995
---

I know there is much much more out there that I'm not even aware of, so if you can be of any help whatsoever, please contact me. I have a few copies of the Unabbreviated Collection CD available for trade. It's a CD I made, but it's not chintsy. It has full-color artwork and a 12-page booklet with lyrics and pictures and I think it, along with her 5 proper studio albums, provides an almost complete collection of her most significant material up to the year 2000. I am, of course, also willing to just pay. Thank you for reading this and I hope to hear from you.